SLS GT3 - PART 12 - Livery
I had a few liveries for the SLS in mind. Most of them were real world racing liveries. But in the end I couldn't resist the simple but in my opinion very elegant and fitting silver showcar livery I saw at Europapark in 2014!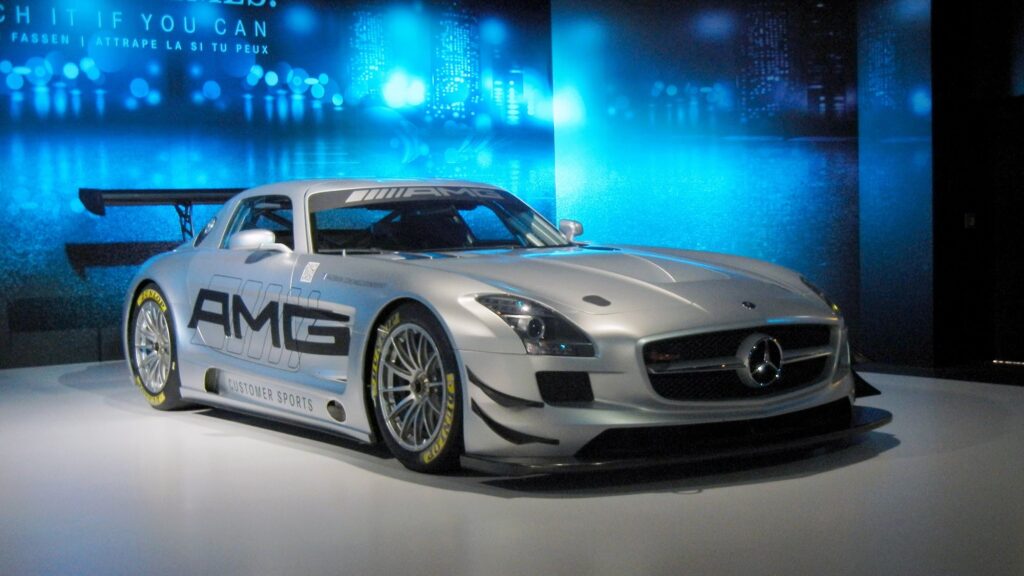 The primer I used was Vallejo's grey surface primer. I wanted to spray multiple thin layers with sanding inbetween. However the primer had the very strange property to peel off like rubber under the sanding paper. Not what I am used to with Vallejo primer. It seems like the problem is limited to the new bought bottle I used. Maybe a mistake in the mixture or I did something wrong this time. I decided to leave it on and very gently sand everything as smooth as possible.
To be absolutely accurate, the basecoat needed to be original Mercedes silver. In this case the color is named "Iridiumsilber".
A true silver arrow needs true silver arrow paint!
The paint of choice is ZeroPaints. They offer airbrush ready, solvent based colour matched paints for nearly every car manufacturer.
I sprayed it unthinned, using my Harder&Steenbeck Evolution airbrush with a 0.4mm needle and 30PSI. 3 coats were applied with 5-10 minutes of drying time inbetween.
I was very satisfied with the behaviour of the paint!
The only way of getting the big AMG decals on the sides was to create (with paint.net software) and print them myself. I used a laser printer with suitable transparent decal-paper (bare metal foil (BMF)) for that task again.
Before applying decals, the surface needs to be clearcoated. Otherwise silvering could occur and the decal won't stick to the surface very good. The corresponding areas of the body were clearcoated with Vallejo's gloss varnish and the decals applied.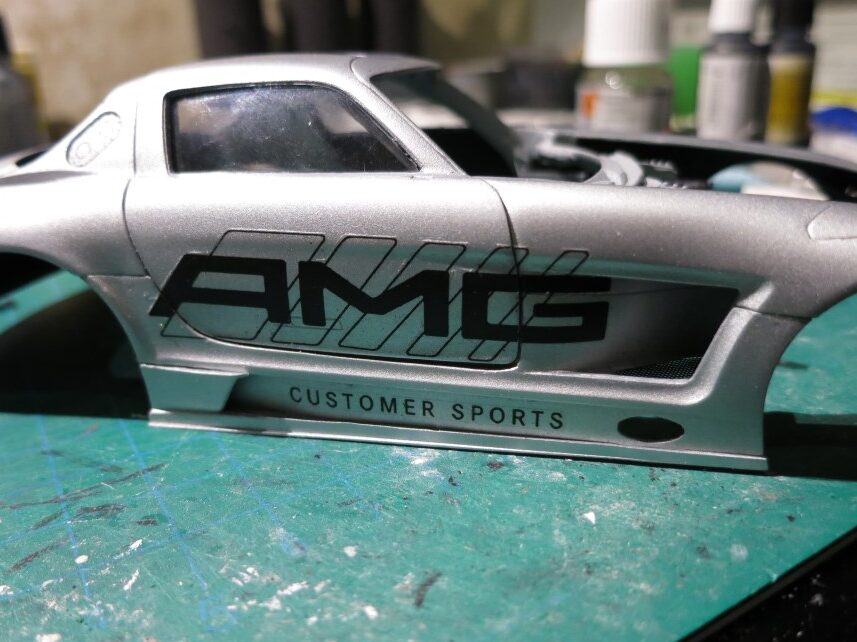 After painting every silver part of the car and application of the decals, it was time for the last and final coat: The clearcoat. The showcar at Europapark has a satin finish. For my model I chose a mixture of Valljo gloss and satin varnish and sprayed it on.
– Project Page –